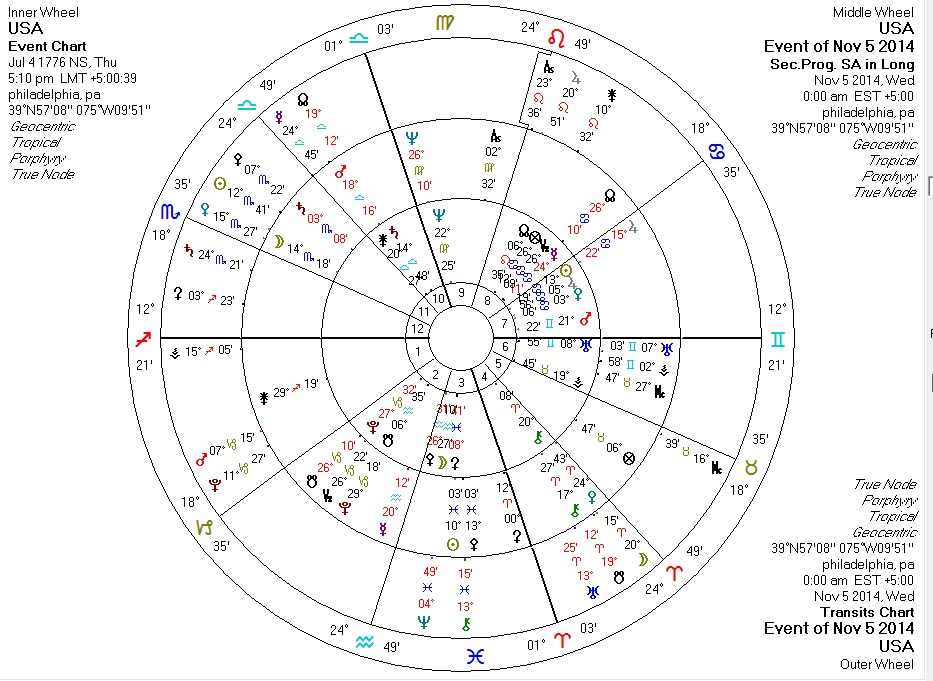 By the end of yesterday's US election, liberals were tearing out their hair and conservatives were doing the happy dance at the GOP victory. In my mind, the Republicans as a whole are every bit as much welfare-warfare statists as the Democrats, but certainly the current round of "throwing the bums out" and replacing them with fresh bums is a reflection on American dissatisfaction with the past two years of rulership.

Accordingly against the Sibley chart:

Transiting Jupiter is trine the US Chiron (pain made public).
Transiting Chiron is conjunct the progressed US Sun and Pallas (an attempt to adjust/heal both the nation and the state of its ethics).
Transiting Saturn trine US Mercury: the US voice made solid.
Transiting Uranus tightly square US Sun: a significant shakeup.
Transiting Neptune trine US Venus, ruling the Tenth House: the dissolving of structure.
Transiting Pluto continues its long opposition to the US Sun, suggestive of continuing shifts in power.

Sweet, sweet gridlock, come quickly!



Write to me at "alan" + "@" + "zot.net".

Weblog Index
Home