ISSA: Clinton could face criminal charges...
'Huge gaps' in email record...
WASH POST MONDAY: Will Hillary's experience be liability?
FT: Clinton fatigue...
'FOLLOW THE FOUNDATION MONEY'


These are a few of the Hillary Clinton headlines Sunday afternoon on Drudge. I had been ignoring the developing story on her (apparently illegal) use of

a

personal email account while serving as Secretary of State. I had guessed that the presidential frontrunner would be able to brush it off and "under the rug".

The story, however, is growing wings and refusing to die.



Hardcore libertarians consider anti-libertarian and criminal tendencies to be one and the same. Accordingly, I have, through voluminous research published on my site and on this blog, demonstrated that many

if not all of

the astrological markers for anti-libertarians and for criminals are

in fact

the same. So while many in the general public may be gasping in surprise at the discovery of (possible) misdeeds by the potential Commander-in-Chief, neither I nor my libertarian kin are the

least bit surprised.



On to the astrology: Clinton's natal chart (time in question) with transits, progressions, and solar arcs for today.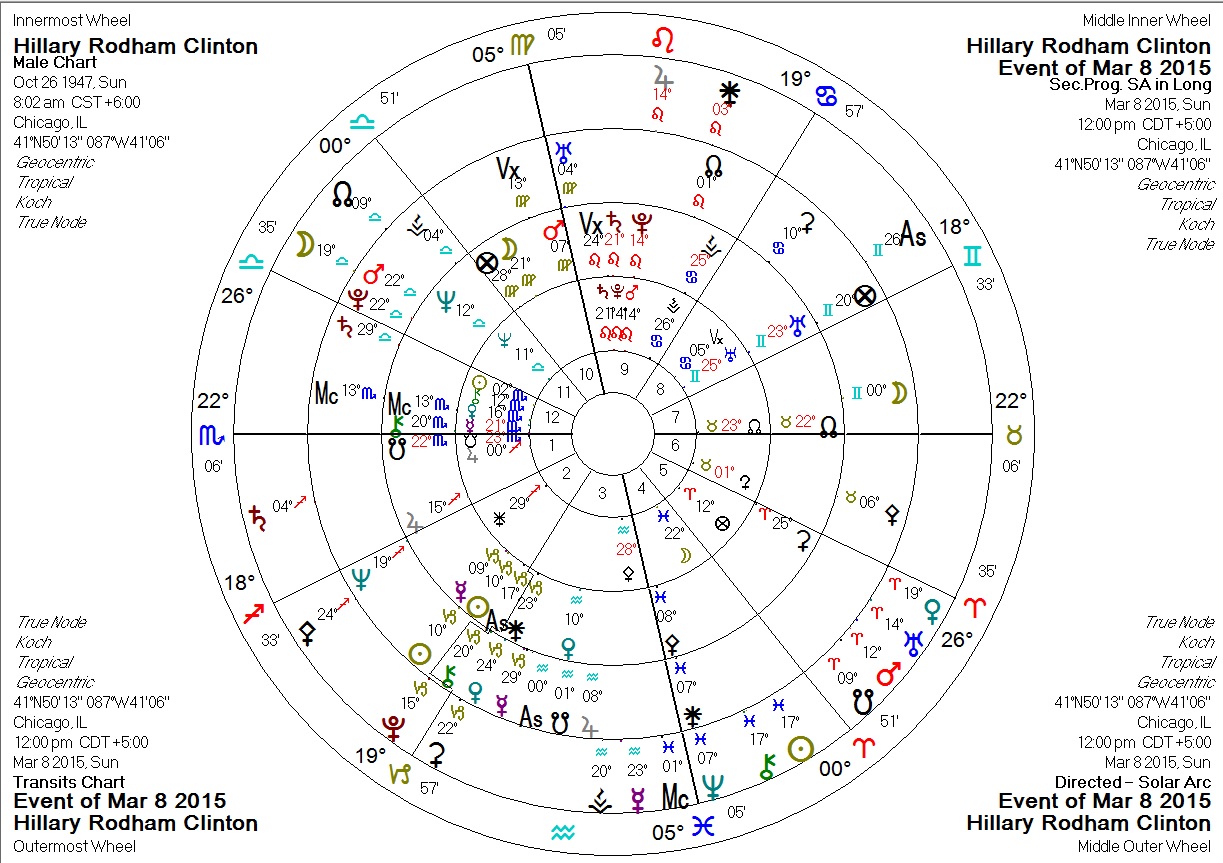 Transiting Pluto on Third House cusp quincunx Clinton Mars and Pluto, rulers of Sun: a violent shakeup affecting Clinton's public power base (Mars/Pluto in the Ninth) and identity (Sun).

Transiting Neptune conjunct Clinton IC: one's "base" melting away?

Transiting Neptune conjunct progressed Pallas: the image of one's ethics coming into question?

Transiting Uranus quincunx Clinton Venus: resources disrupted.

Transiting Saturn square Clinton MC: difficulty with one's public standing.

Transiting Jupiter conjunct Clinton Mars/Pluto in the Ninth House: covert action affecting the public sphere, made public.

Transiting North Node conjunct Clinton Neptune in the 11th: the triggering of a (future?) public disillusionment?

Solar arc Moon ingress into Gemini in the Seventh: more focus on communications now.

Solar arc Uranus about to conjoin Clinton MC: a very strong shakeup in her public standing in the next year?

Solar arc Neptune entering Clinton Second House: resources dissolving?

Progressed Sun square Clinton Neptune in the 11th: image problems?

This post at regime-Leftist astro-blog Starlight News goes into depth about the progressed Sun, which I admit I missed.

The commentators at LewRockwell.com love to pour salt on the wound when one of our overlords shoots him/herself in the foot. But I will admit I will pity Mrs. Clinton for putting up with Bill all these decades for nothing if her ambitions to become the US Emperor come to naught.



Write to me at "alan" + "@" + "zot.net".

Weblog Index
Home